At the G20 conference in Bali, President Biden was seen once more utilizing a comprehensive cheat sheet that told him where to sit, when to make speeches, and when to pose for pictures.
Photographers saw the 79-year-old commander in chief flipping through pages of notes on Tuesday when he was at an event on the Partnership for Global Infrastructure and Investment.
The prepared memo addressed the president as "YOU" in bright red characters and provided Biden with step-by-step directions on what to do during the meeting.
"YOU, [Indonesian] President Widodo, and [Japanese] Prime Minister Kishida will take a photo directly before the event starts," one instruction said.
Another one states, "YOU will sit at the center" and "YOU will deliver opening remarks (5 minutes)."
And another one reads, "YOU will close the event alongside YOUR co-hosts."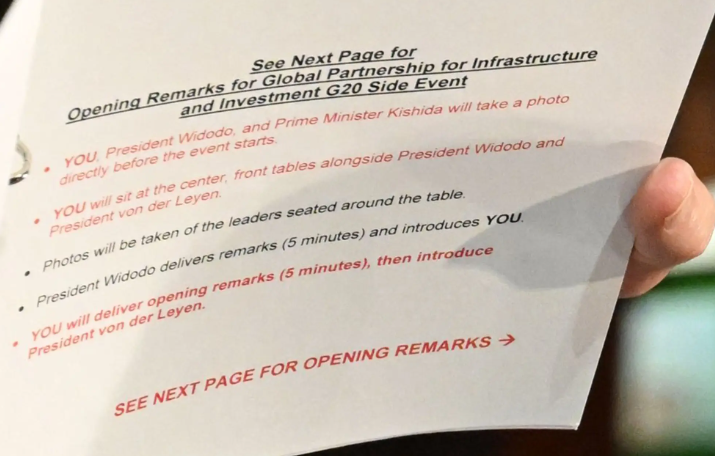 Unknown author of the message instructed Biden to turn the page for his opening remarks at the top and bottom of the sheet in boldface.
Biden has already been observed using stage instructions while participating in public events.
Biden unintentionally flashed a hilariously elaborate paper that instructed the president to enter the Roosevelt Room and introduce himself to attendees at a meeting with wind industry leaders in June.
Biden accidentally displayed a memo from a staff member warning him that there was something on his chin in July 2021.
Critics of Biden have been speculating that the septuagenarian has been suffering from cognitive deterioration due to his frequent and well-documented reliance on cue cards.