Democratic Governor. Kathy Hochul is showing that New York's state government can change but remain the same. Governor Hochul, who replaced Andrew Cuomo as governor, visited Rochester on Wednesday to deliver the message that healthcare workers who fail to adhere by the Sept. 27 deadline for vaccinations are replaceable.
To all the healthcare providers, doctors and nurses in particular who are vaccinated, I say thank you. Because you are keeping true to your oath," she said. "To those who won't, we will be replacing people," she stated.
She continued, "We are sending out a call statewide" , "There are facilities, for example in New York City, that 98% of their staff are vaccinated, they don't have a worker shortage. We are working closely with these hospitals to find out where we can get other individuals to come in and supplement nursing homes and other facilities."
Hochul stated that foreign healthcare workers may be able to replace those who do not want their healthcare decisions to be respected.
"We're also reaching out to the Department of State to find out about visas for foreign workers, on a limited basis, to bring more nurses over here," she stated.
Andrew Cuomo, the former governor in disgrace, issued the mandate for vaccinations to the state in August shortly before he resigned. New York's health care workers cannot opt-out of testing.
Governor Hochul even considers deploying the National Guard to meet the expected shortage of healthcare workers due to the vaccine mandate.
t released on Saturday, the governor's office said Ms. Hochul was laying plans for an executive order to declare a state of emergency that would "allow qualified health care professionals licensed in other states or countries, recent graduates, retired and formerly practicing health care professionals to practice in New York State."

Other options, the statement said, included calling in medically trained National Guard members to deliver care and to work with the federal government to deploy Disaster Medical Assistance Teams, which are operated by the Department for Health and Human Services.
The Democratic governor would declare yet another "state of emergency" to address the fizzling Covid pandemic. However, New York hospitalizations for Covid-positive patients are currently manageable.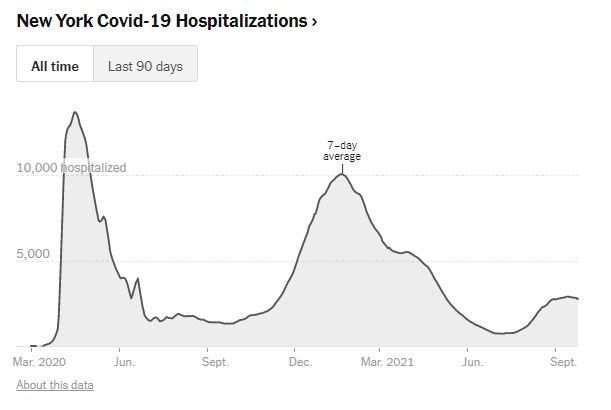 Accordingly, the "state of emergency" was entirely caused by New York's coercive policies and inexplicable actions and not the waning pandemic. Covid vaccines don't prevent transmission. Even the CDC Director acknowledged. Therefore, the only reason to get the vaccine is to reduce your risk of contracting the virus.