In a bizarre online video, Joe Biden appears to have fallen asleep in his chair while he met with Israel's Prime Minister Naftali Bennett.
📹| #Biden falls asleep during press conference with #Israel's PM Bennett

▪️#US president Joe Biden fell asleep during a press conference he held with Naftali Bennett.
▪️Bennett continued to talk while Biden was sleeping. pic.twitter.com/p2EzWdQ3tF

— EHA News (@eha_news) August 28, 2021
Mr Biden met the Israeli in the White House on Friday for the first time since Mr Bennett was elected to discuss the USA's involvement in the Iran Nuclear deal. Bennett tried to discourage President Biden from reverting to the Iran Nuclear deal, which was made during the Obama administration. It was then cancelled by President Donald Trump. Iran continues to enrich its uranium further, in flagrant violation of the rules it had signed up to. In a strange moment, Joe Biden seems to be falling asleep while Mr Bennett is talking to him.
A sleepy looking Mr Biden, with his hands clasped and his face mask on, appears to be unable to focus as Mr Bennett speaks.
As Mr Bennett explained the importance of America's relationship with Israel, Mr Biden can then be seen closing his eyes and dropping his head.
You can hear Mr Bennett saying, "Yet another chapter in a beautiful story of the friendship between our two nations: the United States of America and the Jewish democratic state of Israel.
"Both of us who seek to do good and need to be strong."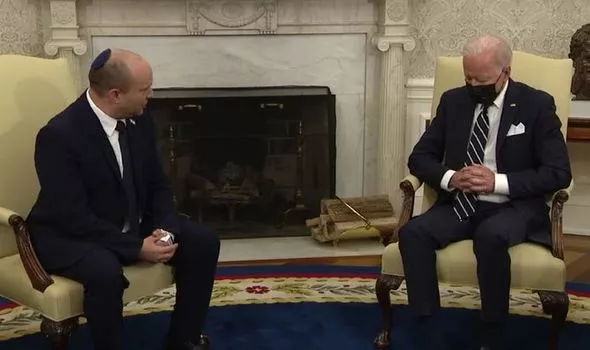 Despite Bennett's attempts to make eye contact, Mr Biden remains silent and keeps his eyes closed.
The strange moment lasted around one minute and left observers puzzled.
LBC radio host Maajid Nawaz shared his astonishment at the video as he questioned what Mr Biden was doing.
He tweeted: "Wait. What? Is Biden literally *asleep* as the Israeli PM is talking to him??"
While another person amusingly commented: "Yup… He's been asleep since before the elections."
This comes after Joe Biden said to Bennett Friday that diplomacy was the "first" option for any decision regarding the Iran Nuclear Deal, but that he would consider other options in the event of a failure to revive it.
President Biden explained: "We are putting diplomacy first and seeing where that takes us.
"But if diplomacy fails, we're ready to turn to other options."