Dr. Anthony Fauci's wealth grew dramatically during the Covid-19 outbreak while Americans suffered.
The results of a public probe of the finances of the director of the National Institute of Allergies and Infectious Diseases, a top Covid physician, and his wife Christine Grady, a bioethicist at the National Institutes of Health, strangely, revealed those conclusions.
The Fauci household's net worth "now exceeds $12.6 million – up $5 million from 2019 through 2021," according to Dr. Anthony Fauci's FY2021 financial disclosures from the National Institutes of Health that were examined by watchdog group OpentheBooks. That's a 70% boost for the country's highest paid civil servant at a time when Americans have lost an average income of $4,200 a year under the Biden administration.
The following categories represent a breakdown of the Covid Czar's total income sources according to OpentheBooks' financial analysis: Investment Gains: $910,174, Gifts And Awards: $919,205, Federal Employment Compensation: $694,998, Perks And Pension Benefits: $208,499 (estimated), Royalties And Professional Reimbursements: $100,000+.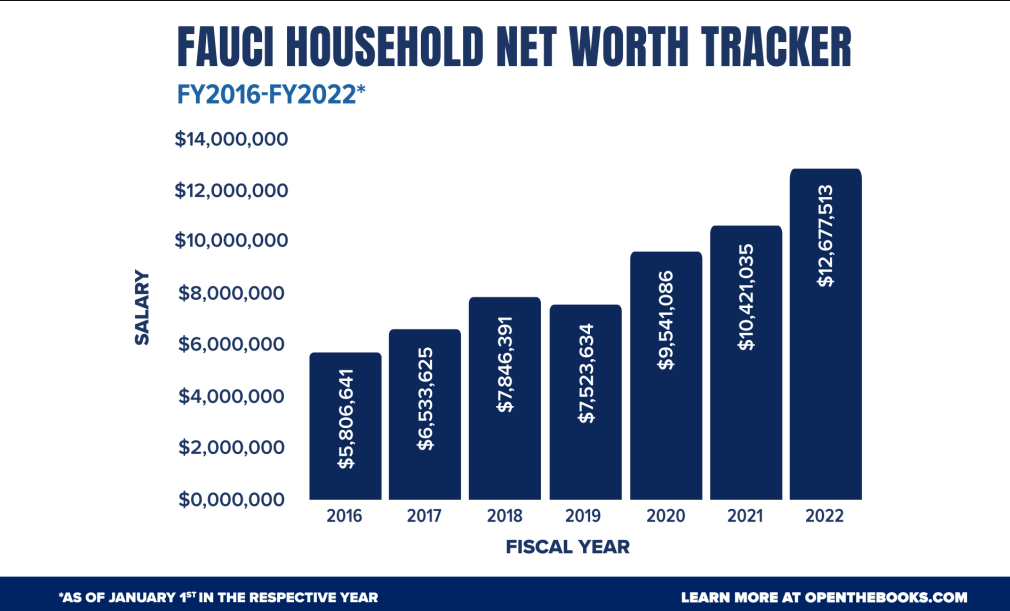 The following are the report's main conclusions. A combination of trust, retirement, and college savings accounts housed Fauci's money. For speaking truth to power and standing up for science under the Trump administration, the best Covid documentary in January 2021 was given a $1 million prize as part of the Dan David Prize. Fauci's basic pay increased to $480,000 in 2022, making him a higher-paid government employee than President Biden—although that may not be altogether unjust. With his golden parachute retirement, Fauci will get the highest-ever government pension of roughly $375,000 for the first year.
In order to obtain a copy of all royalties paid to active and retired NIH scientists since 2005, OpenTheBooks filed a Freedom of Information Act lawsuit. We filed a lawsuit in federal court when NIH refused our valid request (October 2021). We were represented by Judicial Watch, a public interest legal firm. The amount given to each of the 2,250 individual scientists continues to be censored in the 3,000 pages of line-by-line royalty payments that the NIH is now releasing.