According to footage, after being stopped at gunpoint only steps from Manhattan's Central Park on Wednesday afternoon, a New York man appeared to assault an NYPD officer and leave on foot.
On E 59th St. between Park and Lexington Ave., three cops can be seen approaching a red Toyota vehicle with pistols drawn and motioning for the passengers to get out.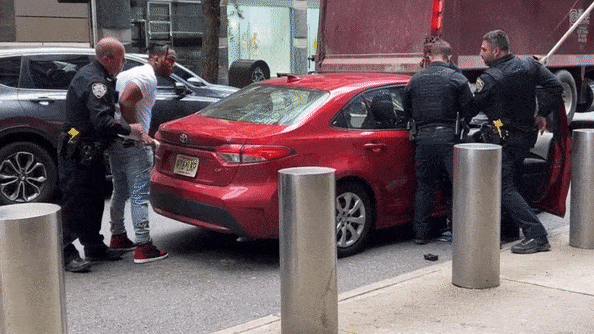 "Exhibit your hands!" Exit the vehicle! As they opened the doors, the police could be heard shouting.
The driver seemed to comply at first and was escorted around the back of the car.
When one police officer tried to arrest him, he turned around, pushed the cop, and ran down Lexington Ave.
A guy in the passenger seat was handcuffed and carried out of the car, while a woman was removed from the rear seat.
The man who tried to run was apprehended afterwards.
The incident is being investigated by the NYPD.