Nancy Pelosi, Speaker of the House, was recently expelled from Barack Obama's 60th birthday bash. The stubborn Speaker didn't let that stop her from crashing Obama's prebirthday celebrations at the resort filled with celebs, where the big bash will be held.
But to hear Madame Speaker tell it, the reason for her to take her private jet up to Martha's Vineyard — climate catastrophe be damned — was that it was all business. Because, obviously, politicians never lie.
Pelosi was taken in black cars from the airport, where paparazzi-packed photographers waited. They then drove to Winnetu resort, where some of the most pretentious charlatans in the country congregated. The Speaker would then go to brunch at Vineyard Havens Country Club where she would be joined by The Oprah.
However, the meeting with media and political power brokers became awkward when the guest-of-honor showed up. Barack was just out on a round of golf at his private course when he entered the clubhouse where the women were eating.
"According to one well informed source Saturday afternoon brought a tense meeting as Pelosi dined with Oprah Winfrey at the elite Vineyard Havens Country Club," the Daily Mail's source reported. "In a moment of unfortunate timing, Obama had been playing golf on the private course with friends and walked into the club house just as the women dined."
"The source saw the former president approach Winfrey and Pelosi's table but could not hear if he extended the speaker a face-saving invitation amid the pleasantries exchanged," the report added. "It is possible that Obama extended an invite after finding out Pelosi was in the neighborhood."
The Pelosi lunch was also confirmed by the New York Post, which said Pelosi did gnosh with The Oprah at the Winnetu Ocean Resort in Edgartown. However, a Pelosi aide said that she was only there to support House Democrats at "private events."
The A-listers that had gathered at the Winnetu for Obama's bash had just held a three-hour cocktail party there on Friday with Obama himself. There was "not a mask in sight" according to the Daily Mail.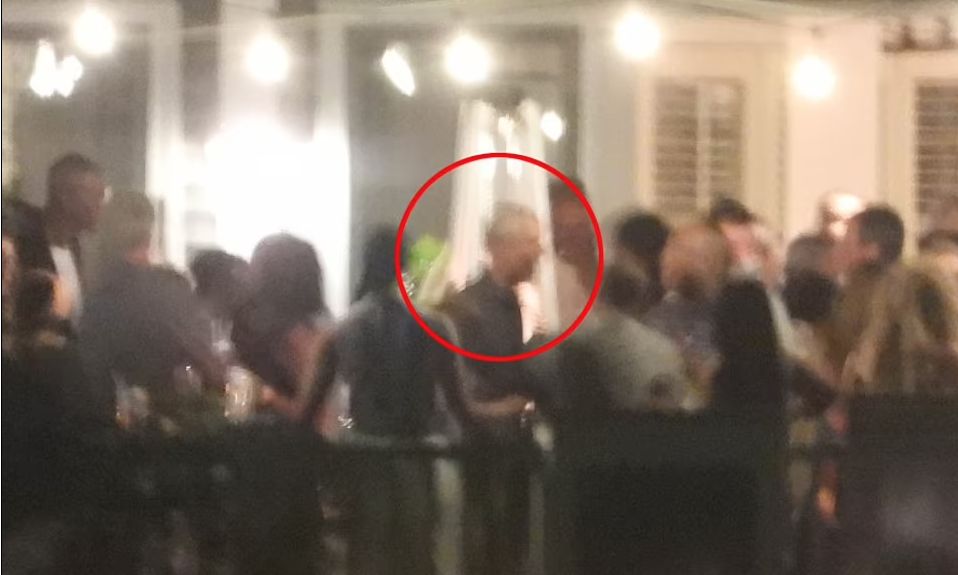 President Barack Obama's massive 60th birthday celebration is being held on his $12 million estate in Martha's Vineyard on Wednesday. Celebrities that have poured in for the celebration include Beyonce, Jay-Z, Oprah Winfrey, Tom Hanks and George Clooney.
Although it was said that the guest list would be reduced from almost 500 people and 200 waitstaff for the birthday celebration and that it would be a private affair among family and friends, Friday night's Winnetu shindig proved otherwise.
John Legend, Chrissy Tiegen, and NBA legend Dwyane Wade were also in attendance for the party on Friday. "Climate envoy" Kerry also said to heck with our kid's futures, which reputedly hang in the balance with every CO2 molecule expended into the air, by flying in on a private jet; the beluga caviar, after all, was said to be divine.
Obama's estate has huge tent cities, but they're not for the homeless. Nancy Pelosi, who has worked with homeless people in San Francisco's District, could have offered advice.
They are not for celebrities. They are only for celebrities who think that universal mandatory masking is for children and toddlers who must sit in classrooms for eight hours a day for their education.