A high-level travel warning for Americans traveling to Russia was released by the US Department of State. All US citizens were advised to evacuate the country right away by the Biden administration.
The White House issued a warning about the possibility of intimidation and single-out US citizens for detention by Russian government security personnel. similar to how the Biden administration treats Trump supporters who voted on January 6.
"Do not travel to Russia due to the unpredictable consequences of the unprovoked full-scale invasion of Ukraine by Russian military forces, the potential for harassment and the singling out of U.S. citizens for detention by Russian government security officials, the arbitrary enforcement of local law, limited flights into and out of Russia, the Embassy's limited ability to assist U.S. citizens in Russia, and the possibility of terrorism. U.S. citizens residing or traveling in Russia should depart immediately. Exercise increased caution due to the risk of wrongful detentions. The U.S. government's ability to provide routine or emergency services to U.S. citizens in Russia is severely limited, particularly in areas far from the U.S. Embassy in Moscow, due to Russian government limitations on travel for embassy personnel and staffing, and the ongoing suspension of operations, including consular services, at U.S. consulates," U.S. Embassy said in a statement.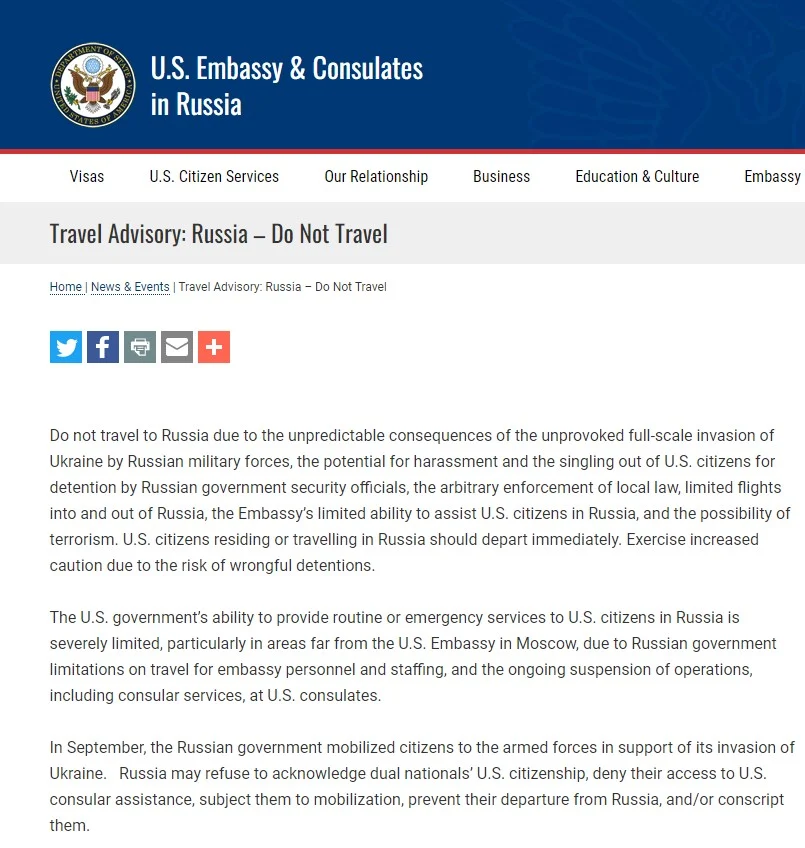 Vladimir Putin criticized the western tank supply to Ukraine earlier this month and vowed a severe response that goes beyond armored vehicles.
The Biden administration consented to dispatch Abrams tanks to Ukraine in order to engage the Russian military.
This means that the US will be compelled to send both men and women to operate and maintain the tanks. It is an effort by the Biden administration to intensify the war in Ukraine.
"To those who allow themselves to make such statements about Russia, I would like to remind you that our country also has various means of destruction, and for some components more modern than those of the NATO countries. And if the territorial integrity of our country is threatened, we will certainly use all the means at our disposal to protect Russia and our people. It's not a bluff," Putin cautioned.
The World Health Organization urged nations to start stockpiling drugs for nuclear emergencies as the Doomsday Clock moved closer to midnight than it has ever been.
The Doomsday Clock was set to the closest to midnight since its start in 1947 on Tuesday, January 24, 2023, at one minute and a half (90 seconds).