Trump released a statement criticizing Fox News anchor Brett Baier and Fox News for reporting on the 2020 election. He also rebuked the media for supporting the Maricopa County, Arizona, forensic audit.
Last week's Arizona Senate hearing was explosive (see below). It revealed so many things that went wrong in the 2020 election.
Trump cites specific reasons Fox News and other media outlets should examine the audit's results in the statement below.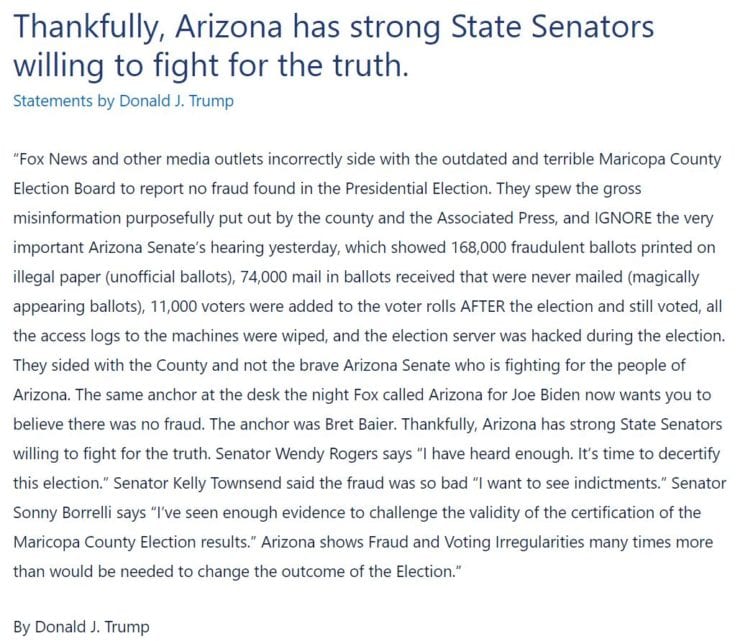 One bombshell after the other was revealed during the Arizona Senate hearing last week on the Maricopa County forensic auditor.
Pesky little irregularities were found, minor ones that Democrats don't want to talk about. The fact that there are over 74,000 More mail-in ballots were accepted and counted that were sent out. Democrats: Big Deal
Or the small but significant fact that 11,326 people voted for who was NOT On rolls November 7th, but miraculously WERE December 4th. Democrats: Who cares?
These inconvenient and puny facts are easily explained, and Democrats are no doubt busy creating bogus theories right now. In a state that was won by 10,457 votes, there were many discrepancies. Democrats want us to forget about it.
Thankfully, there IS NO getting over it and one state senator in AZ is determined to get these election discrepancies cleaned up.
I have heard enough. With the tens of thousands of ballots mailed without being requested, the over ten thousand people who voted after registering after November 3rd, the failure of Maricopa to turn over the 40% machines, the passwords that Dominion still refuses (1/2)

— Wendy Rogers (@WendyRogersAZ) July 15, 2021